Interpretación libre de la revista "The Next Call 3", publicada originalmente en enero de 1924 por H. N. Werkman, de la que imprimió 40 copias a dos tintas en un formato de 27,4 x 21,5 cm.
Editado en enero de 1924, el tercer número de la revista The Next Call contiene de nuevo en su portada parte de una cerradura entintada, en esta ocasión en color amarillo. En ella HN Werkman colocó un grabado de Jan Wiegers con un fragmento del poema en alemán "Song of the open road"*, de Walt Whitman.:
[ENG]
Allons! Through struggles and wars!
The goal that was named cannot be countermanded.
[GER]
Allons! ¡Door gevechten en door strijden!
Het doel dat wij ons gestek hebben kan niet worden ontgaan.
[ESP]
¡Camina! ¡A través de luchas y guerras!
La meta que ha sido pronunciada no puede anularse.
Se trata seguramente de la revista menos expresiva de toda la colección ya que, exceptuando la portada, el resto de las páginas contienen textos formalmente más convencionales, así que la interpretación se centra en una deconstrucción de ésta.
Esencialmente todos los elementos que aparecen en el número original se muestran también en la propuesta, aunque en un orden jerárquico distinto. Se agregó el fragmento original de Walt Withman, así como sus dos iniciales, jugando con la ambigüedad que presenta el signo, ya que no es fácil advertir si su presencia es puramente plástica, responde a la inicial de Werkman usada en otras ocasiones o tiene algún otro simbolismo encerrado.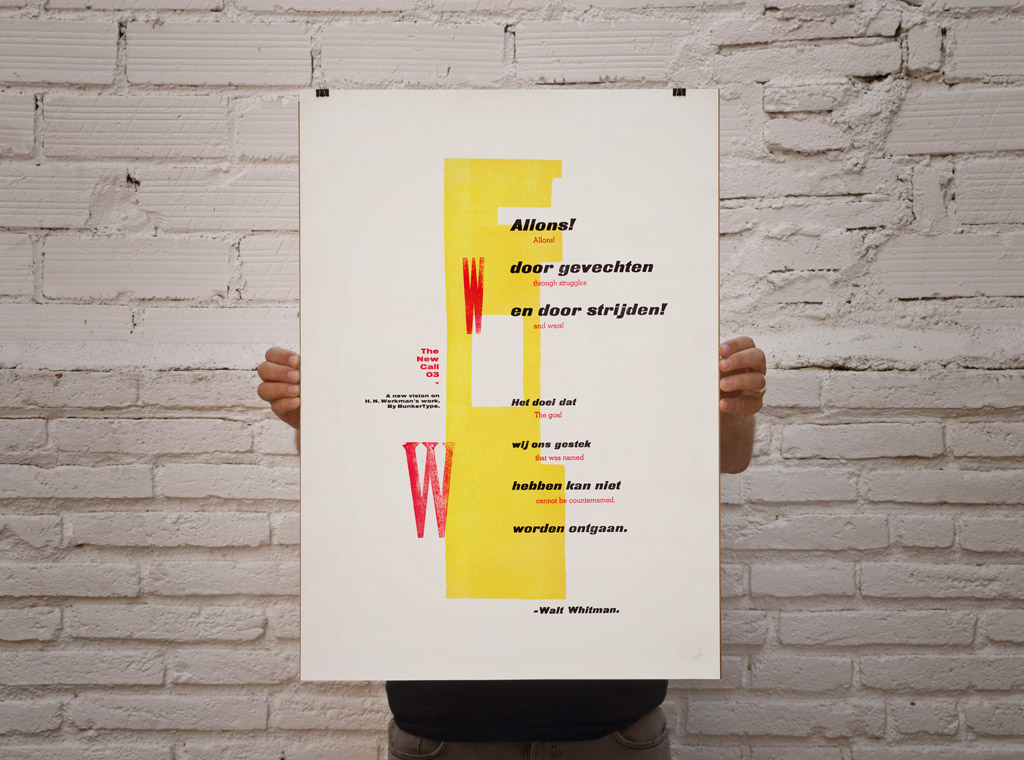 Tiraje limitado a 30 unidades selladas, numeradas y firmadas.
–
Impreso manualmente en tres estampaciones y tres tintas con una Korrex Hannover de 1964 sobre papel Colorplan Liso Natural 175 gr. de G. F. Smith.
–
Tamaño: 50x70cm. (19 ¾ x 27 ½")
–
45€