From January 24 and for more than one month, we will be able to enjoy (I hope) one interesting exhibition in which H. N. Werkman will come back as protagonist. The Agora Hall of the Elisava School will gather some of the views from which observe the work of the great Dutch creator. That work will be structured- could not be otherwise – by the luxury reproduction in issue facsimile of the magazine The Next Call (1923-1926) owned by the Enric Bricall library Fund.
The exhibition, entitled "The Next Call, van H. N. Werkman. An interpretation of BunkerType", abounds in the work of analysis and reinterpretation that I presented more than one year ago and is complemented with some proposals that seemed especially relevant attending to the University context in which this exhibition will take place.
Thus, the aforementioned facsimile edition of the magazine, and the collection of reinterpretations of each of their numbers – that have already been widely discussed earlier in this blog – add a sort of contents that reinforce the pedagogical character that, logically, can be expected in the academic field in which it is done. For that purpose, and thanks to the generosity of Arcangela Regis (Lauren Press) I could expand the collection of interpretations with the design and reproduction of three new posters (50 x 70), with the distinction of being made in a splendid "Albion Press" of 1845, model nearly identical to that used by H. N. Werkman in his small workshop in Lage der A13, Groningen (similar – although of greater size – with the one that appears in the picture that opens this post).
Both, the process of printing one of the posters – in Lauren Press – and mounting its previous typographic mold – in BunkerType – were recorded and later edited in the same school, from which a fundamental audiovisual support will be given in order to understand and enjoy the complexity of the process, complemented in turn by an extensive collection of tools and utensils of a typography workshop that properly referenced, will be presented also in the same space with the same object.
Finally, a sample of contemporary publications by diferent authors will close what I hope will be a pleasant and instructive sight to the Werkman's audacious proposal and to its magazine "The Next Call" and as well, why not mention it, to the tribute that BunkerType is still giving him.
I hope you will enjoy it as much as we have been doing while designing it.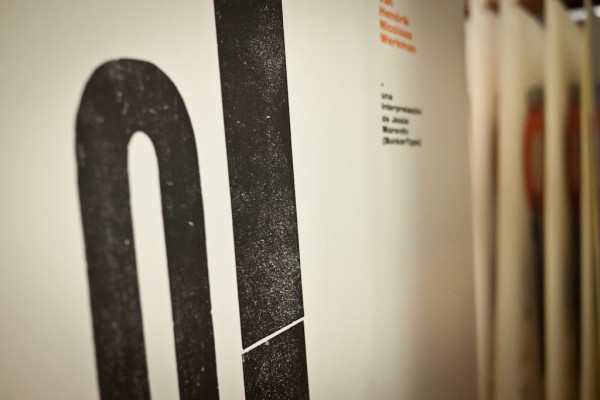 (All pictures that accompany this post – except for, logically, the one that shows H. N. Werkman with some components of De Blauwe Schuit – are taken by Lauren Press, in Arcangela Regis workshop, to whom with these lines and openly I express my gratitude)
_
More info:
Werkman's video exhibition and setting up.
Project definition on H. N. Werkman
The Next Call #05
The Next Call #06
(Still in Spanish, updating process)
De vacaciones con H. N. Werkman.
The Next Call #01
The Next Call #02
The Next Call #03
The Next Call #04
The Next Call #07
The Next Call #08
The Next Call #09
The Next Call #Entradilla
The Next Call #Contexto
The Next Call #Cierre y colofón
The Next Call #Cartel
The Next Call #Colección completa